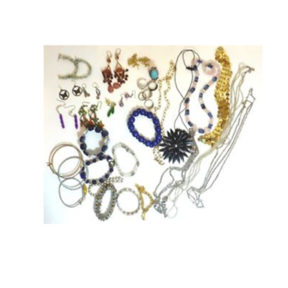 We have been in business over 45 years selling wholesale jewelry and jewelry component parts! We carry Department Store brands, designer jewelry, and jewelry for all boutiques, wholesalers, off price stores, etc.
Our warehouse has all your jewelry needs! Department store jewelry, designer jewelry, flea market and swap meet jewelry! Our customers have been buying from us for 45 years because they make HUGE profits with our jewelry ! We have proven track records for making our customers $$$ !
No one has bigger jewelry warehouse than us in RI! Buy direct from the original source!
Other wholesalers buy from us and then resell to you! Our company has actual warehouse and stocked inventory! Our prices will not be undercut! We are direct supplier of jewelry-- Designer Jewelry, Department Store Jewelry; Kiddie Jewelry; also lowest prices in Sterling Silver Jewelry; and we carry
Vintage Jewelry!!
One Stop shopping at Waliga Imports! When in town stop in and see us! You can shop at our warehouse!
Largest inventory in Rhode Island-- over 35,000 square feet building!
Check out our other listings http://simplelots.com/en/waliga
Siguen a 3 personas
400 reseñas recibidas (99% positiva, 394/400)